Morocco, travelling individually by 4x4 or hiking

Throughout the South on the tracks, by four-wheel drive and private driver, with friends or family, in a fair way
Trip by 4x4 or hiking, accompanied by mule, camel or horse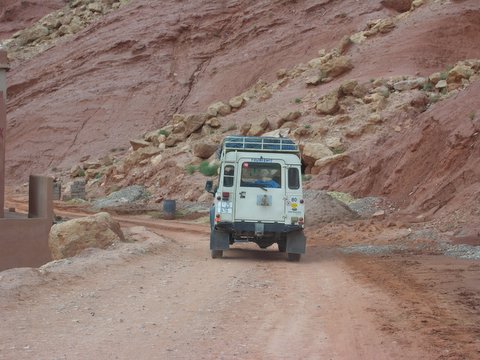 Mountains Oasis's Palm groves Imperial Cities Desert Sun Sea Souks Tradition
You travel when and with whom you like
You decide in which season and who will join your "group"
(in Morocco all seasons are well fit for holidays.) You want to travel as a single or you like it with forty other persons? It's really as you like it ('à la carte')
Impossible to travel more individually
You will discover Morocco in your own way and tempo. You arrive at a place you want to stay a little while? You only have to tell and it will be arranged! Today you should like to stay and sleep the night in the open to watch the twinkling stars and the moonlight, so tomorrow you can take that hotel? Possible! If you don't like to arrange everything in advance, all right. If you prefer to arrange everything perfectly, ok!

You can spend the night in luxury hotels, in Riads, stay in a bivouac or in Nomad tents, go to local people, to simple hotels or sleep in inns.

Besides travelling by 4x4, you can also do something sporty or cultural. For example you can make a ramble, a mountain bike ride, a horse- or camel ride and even scuba diving. It's also possible to visit authentic villages, where you will find places of interest and lovely museums.

What's making you not contact for further information?????? You can e-mail or phone.

An alternative and fair way of travelling
You travel without an inflexible plan and especially without people you don't want to meet in daily life and with whom you even want less to talk.
A responsible way of travelling because only local people benefit of your money.